Today is January 1st and while I'm not big on 'resolutions' one of my goals is to maintain this blog and write about the goings on in the shop and show interesting projects that we are having fun with.  This last year was fabulous!  We were busy - 7 days a week and 12 hours a day busy sometimes, especially in the summer.  We created some really cool signs and learned so many new techniques that I'm just exploding with ideas and projects that I want to work on for shop samples and possible signs for the community.  The router has been very busy and yet there is so much more that it can do.  I know that I am only limited by my imagination and awareness to the possibilities so I am reading and researching new techniques and materials to use in the router which will allow us to create some multi-dimensional signage (not Doctor Who dimensional, but that would be cool too!).  My goal is to build signs that grab to attention and really get my clients noticed.  We added a new digital printed toward the end of the year that has increased our ability to create die cut decals and now we can print in hundreds of METALLIC colors as well as white.  I spent the majority of my first 10 years screenprinting decals and flat stocks and while digital printing is cool and necessary, it lacked some capacity which has now been answered by the printing of white and metallics - technology is amazing!  The 'old' printer is busy printing banners and it is pretty cool to have the vinyl cutters, two digital printers, and the cnc going all day long!  Now for me to get stuck in an finish up those signs to go out the doors!
30 years!  Wow, I've been waiting for 2014 to be officially in the sign business for 30 years.  Some days I'm amazed how far I've come and others, I'm frustrated that I'm not further along!  I am dedicating time in my schedule to build creative and interesting samples for the shop to really showcase what we can do.  Look for pictures and stories about some of those as the year goes on.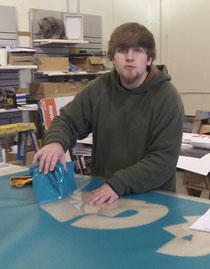 Last year we had for more turnover than I would have liked.  After having Matt working with me for about 18 months, he moved to Hawaii with his girlfriend and are currently enjoying living on an island paradise!  Funny though because my wife and I consider Newport our paradise and truly love living here.  
Matt's replacements didn't last long and I was back to just me for the last quarter of the year which is why I've been quiet in social media and even in our local chamber, but I hope to change that too.  I'm starting the year with a new employee, Scott.  He's new to the business but enthusiastic and a good learner.  Even though he is young, he brings skills to Newport Signs that he is leaning to apply to our myriad of projects.  Even though he's been here for a few weeks or more, today is the first day he's worked with vinyl.  He's been very busy routing, sanding and painting dimensional letters and helping me around the shop while getting his feet under him.  We've even completeted a few installations out of the office in some quite pleasant weather ...for winter on the coast! (shhh).
Ah, is it ok to be hopeful?  I've got so many plans to implement if only I didn't run out of time each day!
Please check back here at look in on what we are working on.  Feel free to comment and give me some feed back or areas of interest you might like to know more about.  I'm excited to be working on this blog and communicating what we are about in a casual and descriptive manner.  Talk to you soon!